Cooperation options
Do you own business premises in the city center and looking for their further use? Find out how to become our delivery point!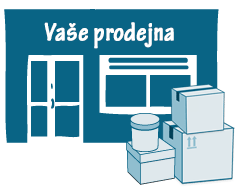 We believe that together we can provide even better services at reasonable prices, so we work with owners of shops and establishments in the Czech Republic.
A combination of decency, honesty, and trust is very important for our cooperation. We guarantee the cheapest postage in the Czech Republic.
How to cooperate with us within our branch network
All you have to do is have a shop, manage premises in the city center, or an otherwise exciting location (ideally over 20,000 inhabitants, or in a catchment area), near a bigger housing estate or large shopping center.
Short walking distance, easy parking, and uncomplicated accessibility are important for us. We prefer premises with a pleasant exterior and interior, as well as non-smoking.
For the operation of our branch, ground floor spaces with a shop window or with an area for a sufficiently visible sign are ideal. In Prague, this means ideally being near an underground station or in shopping centers.
If you meet the above conditions and would like to join us, then take a picture of your premises (exterior + surroundings, interior including corridors), add a short description, and send it all to us at the address: spoluprace@balikdozahranici.cz. Our team will contact you as soon as possible after assessing the suitability of the site.

If you want to cooperate in a larger city where we already operate, contact us. We will assess your location and inform you.
Conditions of cooperation
We want our partners to be well rewarded for their quality work. Therefore, we are the only ones to offer a commission of 15–25 % of the postage price for each processed shipment.
EXAMPLE: The average postage is around 38.46 €, of which your commission is 9.62 €.
To ensure service quality and responsibility to customers, the new partner will pay a refundable deposit of 384.62 €, which will be returned to the partner in the event of the termination of cooperation.
How to mark and photograph a branch?
To mark it, request the catalog with elements and make your selection. You will then choose the implementation methods with one of our representatives. We cover the costs of their production and installation.
It is easy to take pictures of your branch. You don't need to have a professional camera. Just follow our instructions, which you can download along with the manuals and catalog.
Do you want to cooperate with us?

Feel free to contact us at spoluprace@balikdozahranici.cz.
Collecting the shipment the same day anywhere in the Czech Republic
I need to send a package abroad
Quick contacts
Need help?
Contact us.
+420 730 779 988 Mon-Fri 8:00 a.m. – 5:00 p.m.
info@balikdozahranici.cz
Shipment Tracking