Import - information on import to the Czech Republic from abroad, and customs
Import pallets and packages from EU and non-EU destinations with a free pickup.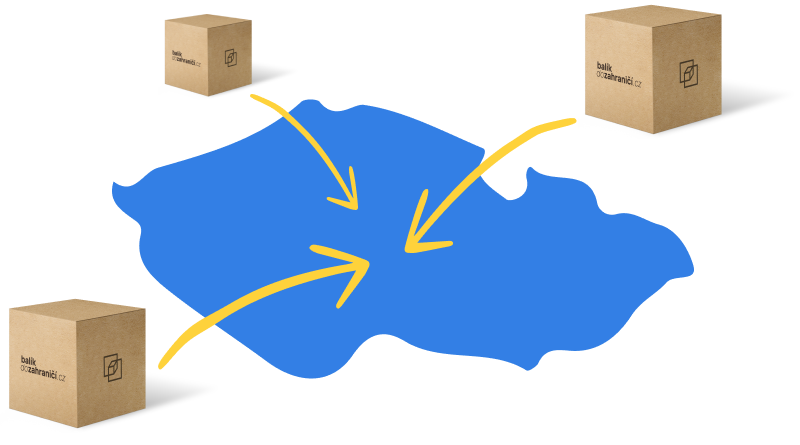 Free import of pallets and packages from EU countries and non-European destinations
We will arrange the import of express documents, packages and pallets from all over the world for you. We will pick up your shipment at any address abroad and deliver it to the recipient by air or ground.
Whether you need a reliable shipping service for your fragile goods or express pallet shipping, we offer the perfect solution for import into the Czech Republic with major carriers UPS, TNT, FedEx and others. Thanks to our many years of experience with international carriers, we can help you choose the most suitable mode of transport, up to customs clearance and document processing. We provide delivery of import shipments sensitive to security or delivery time from around the world and at very low prices. If you like reliability, speed and comfort, send with us.
We offer collection of the shipment directly at your address, insurance up to CZK 2,380 free of charge and much more.
Fees associated with imports from outside the EU
Every shipment sent from outside the European Union (except for an express letter) is subject to customs duties and VAT and must be accompanied by an invoice. We will provide you with the basic documentation that is required for customs clearance of the shipment
As the recipient of a shipment from abroad, you will pay the required VAT on the value of the goods and a duty on the total weight. Please do not confuse these costs with the shipping fees paid by the sender when sending the shipment
Customs and VAT are charged to us as the customer, so it is necessary to pay us a deposit for these fees in the amount of 20% of the value of the goods and the postage fee of CZK 700 for arranging customs clearance. Any overpayment is, of course, refunded to you. You can pay for the service either by bank transfer or by credit card
Why send a package with us?
We offer comprehensive services for export and import of shipments.
Dozens of verified carriers
Express and economical delivery
Express pickup that same day
Warranty
Money Back
Professional customer support
Payment on invoice with a maturity of up to 14 days
Customs clearance assistance
Cash on delivery
Tracking of shipments throughout the transport
Shipment insurance up to 200 000 €
1,000+
service evaluation
80,000+
satisfied customers
100,000+
shipments sent annually
Quick, easy, competent. I got a better deal than ordering with the contractors directly. Highly recommended.
Lukas M.
I am very satisfied, our company has been using your services for several months and everything works.
Michaela P.
Fast, from Ostrava to Brussels in 3 days. On time pick up service, updates via email, easy to track your parcel.
Renata Z.
Everything went perfect! Great service good prices.


Artem R.