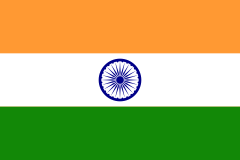 Express shipment to/from India with savings up to 70 %.
Do you need to send an important document or shipment to Chile? Use our professional transport service.
The main benefits of our service
Unbeatable postage costs to India
Delivery speed – express shipping to India within 1–3 days
Comfortable pickup of the package at any address
Maximum transport safety and security of the parcel from the Czech Republic and from Slovakia

How much do letters and packages cost to India?
See the approximate prices of our shipments by weight. For a concrete price, which also takes into account the shipment's sizes and a concrete place of delivery, use our postage calculator.
Price of postage to country India from 58.12 €
| | | | |
| --- | --- | --- | --- |
| Shipment weight | Courier | Without VAT | |
| express letter | UPS Express Saver | 58.12 € | Order |
| Parcel 0.5 kg | UPS Express Saver | 73.73 € | Order |
| Parcel 10 kg | UPS Express Saver | 220.46 € | Order |
| Parcel 20 kg | UPS Express Saver | 308.65 € | Order |
| Parcel 30 kg | UPS Express Saver | 388.27 € | Order |
| Parcel 40 kg | UPS Express Saver | 496.81 € | Order |
| Parcel 50 kg | UPS Express Saver | 581.38 € | Order |
| Parcel 100 kg | TNT Economy | 1 180.85 € | Order |
How long does it take to ship to India?
Express shipping of packages, parcels, and documents – delivery in 1–3 working days
Standard shipping time to India – approximately 3–6 working days
Delivery time may vary depending on the recipient's postal (zip) code. Delivery time is calculated from its forwarding, which in most cases takes place on the same day after it was picked up from the sender's address.
How to send a parcel to India from the Czech Republic or Slovakia?
The shipment must be packed properly, preferably in a cardboard box, without any additional barcodes on it.
The recipient's information should always include his telephone number.
Read more about export restrictions.
All parcels sent to India are being cleared through customs with the exception of documents. Customs clearing is always carried out by a shipper, who delivers the shipment.
All parcels from the Czech Republic and from Slovakia to India are being transported by UPS or TNT. The carrier makes two attempts to deliver the package to the recipient's address. In the case of unsuccessful delivery of the consignment, you can pick the package up in a carrier's local branch.
Shipping to any place in India is not a problem for us! We will arrange the delivery of your shipment to favorite destinations as New Delhi, Bombay, Bangalore, Calcutty, Madrasu, Ahmadábádu, Pune, Suratu, or any other city.
Nothing impedes the shipment from being delivered as soon as possible. Filling the online form in is enough.
How to send a parcel from India?
Do you need to deliver a package from India to the Czech Republic and want to know how much to pay? When importing packages from India to the Czech Republic, we charge an additional cost for its import. For an exact price calculation, it is necessary to know the size and weight of the package.
Rules for shipments of food and medicine to non-EU and third countries
Restrictions are applied to the export of animal source foods, and in some countries, to export selected foods of plant origin, such as honey or dried fruits. It is possible to send durable foodstuffs in small quantities for personal use to non-EU countries. Do not hesitate to contact us for specific information.
Most medicines for personal use can be transported to non-EU or so-called third countries. There are greater demands placed on the medicine's descriptions on the customs bill in some cases. A medical report in English is sometimes officially needed for drugs requiring a prescription in a given country. Please check in advance whether any of these substances are banned in the given country.
If you need to send any kinds of medicines, contact us to obtain the most accurate specifications regarding their quantity to guarantee delivery to the country of destination.
You can get more information about the problem of transporting medicines on the website of the Customs Administrations.
Interesting facts about India
The Republic of India has more than 1,2 billion people, which makes it the second-most populous country in the world after China. It is situated in the peninsula in the Indian ocean and borders the Himalayan mountain range to the north. The capital of India is New Dehli. India got independence in 1947. Its official languages are Hindu and English. More than 80 percent of the Indian population are Hinduists; another common religion is Islam. The term "Indian religion" refers to the four major religions, which originated in India. In addition, there are Buddhism, Hinduism, Jainism, and Sikhism.
I need to send a package abroad
Collecting the shipment the same day anywhere in the Czech Republic
Fast contacts
Need help?
Contact us.
+420 608 380 388 Mon-Fri 8:00 a.m. – 5:00 p.m.
info@balikdozahranici.cz
Parcel Tracking